Welcome to our Online Traffic School with Easy Drivers Ed
California drivers, this is the quick and easy traffic school that's both fully licensed and fully online.
Pick a better option than going to traffic court. Instead, you can mask your traffic citation and get an insurance premium discount with our California online traffic school. If you need your California traffic ticket concealed, our online course provides the driver safety training and official records you need.
With our traffic school you're just a few hours away from:
Concealing a traffic violation.

Preventing insurance increases.

Improving your driving skills.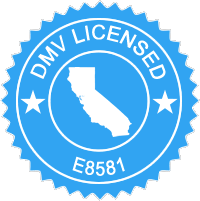 With our online traffic school course, you can clear your driving record in 3 easy steps!
Register with this traffic school online.

Complete the course at your own pace.

We will send your certificate electronically – directly to the DMV.
Get that pesky traffic ticket hidden from your driving record with our traffic school online all in one afternoon.
Our DMV-licensed course (license #E8581) traffic violator school meets all California legal guidelines and requirements. Once you complete our traffic school online, you'll be able to mask your traffic citation permanently. California drivers can have one conviction per 18 month period held permanently confidential on their DMV record.
Getting a citation masked should prevent your annual car insurance rates from rising while protecting your driving record.
Best of all, it's 100 percent online. So, wherever you got your ticket in the Golden State, from San Francisco to San Diego, you can get your citation removed from your driving record and clear your license from any points.
Start here when you want a clean record in half the time it takes to clean your garage.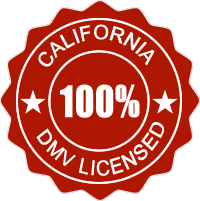 Did you get your reminder courtesy notice? Get started today!
Even minor infractions can be marked on your driving record. Once you receive a courtesy notice stating you're eligible for traffic school, you can get started by registering online for our traffic violator school.
Then, you may start your course at any time. Go at your own pace. And wave bye-bye to your traffic violation!
Flexible and Convenient.

Work at your own pace.

Easy and fast.

Electronic DMV submission upon completion of traffic school.
The class can take just 40 minutes to complete, and it's 100 percent online. Now, you don't have to stress about traffic school, you can focus on getting back on the road. Learn those safe driving techniques from our defensive driving course, all from the convenience of your phone.  
Tap, swipe, score, pass. Our course is a traffic school for busy people.
We handle your completion certificate for you electronically.
Because we are a California Department of Motor Vehicles (CA DMV) Licensed Traffic Violator School, your online progress and completion certificate will be sent directly to the DMV and court without you having to lift a finger after you click the final answer.
That's why our online traffic school is perfect for last-minute due dates. Make sure to complete your course with enough time for the court to receive your certificate. Don't be late. Missing your deadline could mean forfeiting fees, including bail costs, and then getting the conviction sent straight to the DMV from the court instead of being concealed.
Instead, let's show you the easy way. We'll transmit your traffic school completion for you. And if it's getting close, we have expedited delivery options available for an additional fee.
Just sign up, and in no time, you'll join thousands of California-licensed drivers who have their own traffic school certificate. 
Complete your course in the convenience of your own home, in a coffee shop, or at work with your smartphone or tablet.
Take your traffic school course totally online because it's just better.
Our California traffic school course consists of easy-to-read study material and short multiple choice or true-false quizzes – each section will be followed by a quiz. Each quiz consists of multiple choice and/or true-false questions. You will have unlimited opportunities to pass each one successfully. When you've finished the training, you can take the open book final exam. It's 25 questions and you can take your time to look up each question and make sure you've got the right answer before moving on.
When you're done, we'll send your certificate electronically to the DMV and court.
That's why California drivers have come to us since 2000 for our DMV-licensed, fully online traffic school.
Let's make that ticket go away. 
How much does California online traffic school cost?
Our California traffic school costs only $19.95. We accept all major credit or debit cards (Visa, MasterCard, Discover, American Express). The course price includes:
Twelve short, single-page chapters of study material followed by short open-book multiple-choice quizzes and a 25-question final exam.

Access to our online course and customer service team available 24 hours a day.

Electronic delivery of your traffic school certificate of completion to the DMV. (Expedited delivery is available at an additional cost.)
Simple quizzes, upfront pricing, and zero boring coursework. Talk about a low stress traffic school experience. When you're done with traffic school, tell your friends and neighbors how easy it was. After all, happiness is contagious.
Am I eligible to take a traffic school course?
Traffic school eligibility may seem confusing, but remember, the court will tell you if you qualify. Also, here's a few guidelines to give you a rough idea about how the traffic violator school program works for you.
You may attend a traffic violator school (TVS) if you
Haven't taken a TVS in the last 18 months plus one day of your previous violation date.

Weren't driving a commercial vehicle at the time of your violation.

Have a valid driver's license.

Received a courtesy notice about a traffic citation while driving on or after January 1, 2013.

After successful completion, a commercial driver must contact DMV's Driver Safety Office to remove the point. Please note that although the DMV will remove the point from the commercial license holder's driving record, they will not hold the conviction as confidential and your insurance may be adversely affected.

Weren't going faster than 25 mph over the speed limit for a speeding violation.
Additionally, you'll see any fees you need to pay the court before signing up for an online school. Fees usually include a bail amount and an administrative fee. If you're eager to get started but the bail amounts are higher than you can pay, you can contact the court to see what options are available. You may be surprised at how flexible the courts can be when you're consistent and communicative.
Did you know that not taking a traffic school course might raise your car insurance?
It's true! If the court decides you're eligible for traffic violator schools and you don't attend, traffic court won't conceal your conviction. Then, your insurance company will see the whole story and may choose to raise your rates. Car insurance companies check driving records routinely, so make sure you complete your traffic school course on time. 
We can help you with that. 
How long does the California online traffic school take?
Our California-licensed traffic school is a self-paced online course that can be finished as quickly as 40 minutes. You do not need to take the course in one sitting. You may log in and out as many times as you desire. Finish in one day or over several days – that's your choice.
And if you don't have the time to complete the course in a single sitting, our course allows you to work at your own pace. Log out whenever you want. Then log back in with your driver's license number and password whenever it's convenient for you. The course picks up where you left off.
That's the convenience you get when taking your traffic violator school online. You get all the digital benefits you expect in all the other parts of your modern life, but with the  professional licensure, bonding, and insurance to work fluidly with the California government organizations. 
See how much we managed to squeeze into a short, 40-minute class?
Let us guide you through this stressful time. And we'll make it as short a time as possible. 
For one low, upfront price you may get right back from your car insurance 
We run a low-stress traffic school because getting a traffic citation is stressful enough.
Instead of pushing you through flashy videos and confusing pricing packages, you can focus on taking the traffic school option without fuss or the hassle of finding an in-person school. 
Register now to experience a smooth, easy course from an online traffic school provider who knows how busy life is in the fast lane. 
Simple, fast, flexible. That's the online traffic school to go to. 
We've broken up the course into 12, single-page chapters. Each chapter introduces the concepts you need for the final exam, but lets you practice what you know with unlimited tries in the pop quizzes. You can be fully confident you can pass the final exam.
Especially since the test is multiple choice and open book.
Here's the best part: Finishing your traffic school course may save you money. That's right. While you take the class to mask your traffic ticket, you'll also be able to show your completion certificate to your automobile insurance provider. On one hand, you'll keep your car insurance from going up because of a ticket.
Then as a bonus, you may qualify to save as much on insurance as a high-quality traffic school fees may originally cost. 
We bet you didn't think of that when you saw the flashing lights in your rearview mirror. Now, thanks to our California online traffic course, drivers can leave the stress of a traffic infraction in their rearview and move on with their lives. 
Take your traffic school online and get going again.
If you are looking for a quick, easy, online traffic school, you came to the right place. We can get your California traffic ticket case closed and point concealed.
And it's easier than you think with our 100 percent online course.
Need more information? Click here.
Call Us Today! (800) 805-9348 or